Next : Lul Theatre Academe, AA, Ethiopia

film acting:


stanislavsky.us
---
[ advertising space : webmaster ]

2007 class

...

Acting One


Fundamentals : BioMethod

* The Images (The Album) are still not all in place! [new from vTheatre -- GeoAlaska, links to my graphic files are in the list minipages]

Directing ONLINE

Site Map What's New Search
Sign
GuestBook
View

THR221 Intermediate Acting
KEY TERMS: Glossary

DVD: Drama & Art House, Studio Specials & Classics, New & Future Releases, Cult Movies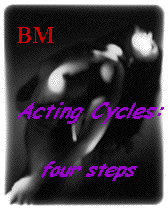 biomechanics.vtheatre.net

Spring 2003: Don Juan
CALL: If you like my sites, there are several things you can do to help me to keep the webpages free. Do you see "pass-it-on" above? Let your friends know about vTheatre, or let me know what you like and don't like. Leave your comments in guestbooks, or "htmlgears" (select the right one). And the guestbooks, of course. Thanks and click on! Anatoly 2002
film books
virtual theatre
webbing
write
---
More and more I use film terminology in BM class; simple as CU and MS frame -- or more complex, like line of action, axis of tention.
---
virtual theatre
---
THR221 Intermediate Acting (BM) Textbook Spring 2003:
Actors on Acting 051788478XSubscribe to my Open Class @ 12night
---
The Actor and the Target 1559362197
Declan Donnellan is the first Director of the Royal Shakespeare Academy and is best known for his work with Check By Jowl, including As You Like It, and the recent production of Homebody/Kabul in New York. As Associate Director of the National Theatre his pro-ductions included Fuente Ovejuna, Sweeney Todd, and Angels in America. Abroad, his work abroad includes Le Cid for the Avignon Festival, The Winter_s Tale for the Maly Theatre in St. Petersbourg and Puskin_s Boris Godunuv for the Moscow Theatre confederation. He has received awards in London, Paris, New York, and Moscow.
Script Analysis Actor:

Theatre Books Master Page *

Waiting for Godot
...
---