BM acting Two: Part I *
2008 --

film acting:


stanislavsky.us
---
[ advertising space : webmaster ]

t-blog --

Acting One


Fundamentals : BioMethod
* The Images (The Album) are still not all in place! [new from vTheatre -- GeoAlaska, links to my graphic files are in the list minipages]
Directing ONLINE

Site Map What's New Search
Sign
GuestBook
View

THR221 Intermediate Acting
KEY TERMS: Glossary

DVD: Drama & Art House, Studio Specials & Classics, New & Future Releases, Cult Movies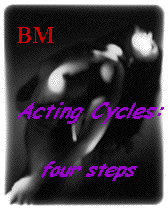 biomechanics.vtheatre.net

Spring 2003: Don Juan
CALL: If you like my sites, there are several things you can do to help me to keep the webpages free. Do you see "pass-it-on" above? Let your friends know about vTheatre, or let me know what you like and don't like. Leave your comments in guestbooks, or "htmlgears" (select the right one). And the guestbooks, of course. Thanks and click on! Anatoly 2002
film books
virtual theatre
webbing
write
---
More and more I use film terminology in BM class; simple as CU and MS frame -- or more complex, like line of action, axis of tention.
---
virtual theatre
webbing
write
Summary
The Viewpoints Book : A Practical Guide to Viewpoints and Composition by Anne Bogart -- The Viewpoints is a technique of improvisation that grew out of the postmodern dance world. It was first articulated by choreographer Mary Overlie, who broke down the two dominant issues performers deal with-space and time-into six categories. Since that time, directors Anne Bogart and Tina Landau have expanded her notions and adapted them for actors to function together spontaneously and intuitively and to generate bold, theatrical work.
The Viewpoints are a set of names given to certain principles of movement through time and space-they constitute a language for talking about what happens on stage. Coupling this with Composition, which is the practice of selecting and arranging the separate components of theatrical language into a cohesive work of art, provides theatre artists with an important new tool for creating and understanding their art form.
Primarily intended for the many theatre artists who, in the last several years, have become intrigued with Viewpoints yet have had no single source to refer to in their investigations. It can also be used by anyone with a general interest in collaboration and the creative process, whether in art, business or daily life.
Anne Bogart is Artistic Director of the SITI Company, which she founded with Japanese director Tadashi Suzuki in 1992. She is the recipient of two OBIE Awards and a Bessie Award, and is an associate professor at Columbia University. Her recent works include Alice's Adventures; Bobrauschenbergamerica; Small Lives, Big Dreams; Marathon Dancing; and The Baltimore Waltz.
Tina Landau, noted director and playwright, whose original work includes Space (Time magazine 10 Best), Dream True (with composer Ricky Ian Gordon) and Floyd Collins (with composer Adam Guettel), which received the Lucille Lortel Award for Best Musical, an OBIE Award and seven Drama Desk nominations. She has been an ensemble member of the Steppenwolf Theatre Company since 1997.
Notes

Method: Yoga & Freud
---
INDEX * fundamentals of acting * Theatre w/Anatoly * Theatre Theory * Virtual Theatre Forum * Classes * Method * StageMatrix: Directing * Script Analysis * Shows * Spectator * Plays * FilmMaking 101 * Acting * 200X Aesthetics * Bookmark vTheatre! Mailing List & News -- subscribe yourself * BM+ *
BM Acting: Part I
MONOlogues ...
auditions

casting

...

---

Al Pacino

---

...

---

Mamet : GG Ross

---

text

---

... see other clips.

---

video pages (new)

---

Notes and comments

---

... R/G are Dead :

GUIL: Well, yes, and then again no. (Airily.) Let us keep things in proportion. Assume, if you like, that they're going to kill him. Well, he is a man, he is mortal, death comes to us all, etcetera, and consequently he would have died anyway, sooner or later. Or to look at it from the social point of view-he's just one man among many, the loss would be well within reason and convenience. And then again, what is so terrible about death? As Socrates so philosophically put it, since we don't know what death is, it is illogical to fear it. It might be... very nice. Certainly it is a release from the burden of life, and, for the godly, a haven and a reward. Or to look at it another way - we are little men, we don't know the ins and outs of the matter, there are wheels within wheels, etcetera - it would be presumptuous of us to interfere with the designs of fate or even of kings. All in all, I think we'd be well advised to leave well alone. Tie up the letter - there - neatly - like that - They won't notice the broken seal, assuming you were in character.

[ act III ]


Structure Physical Action!


Meyerhold, The Director

Venice Carnival 2002 & DJ 2003
Next : scenes

2008 acting2 group
@2003
[ web companion to THR331 Fundamentals of Direction Theatre UAF course ]
calendar * contents